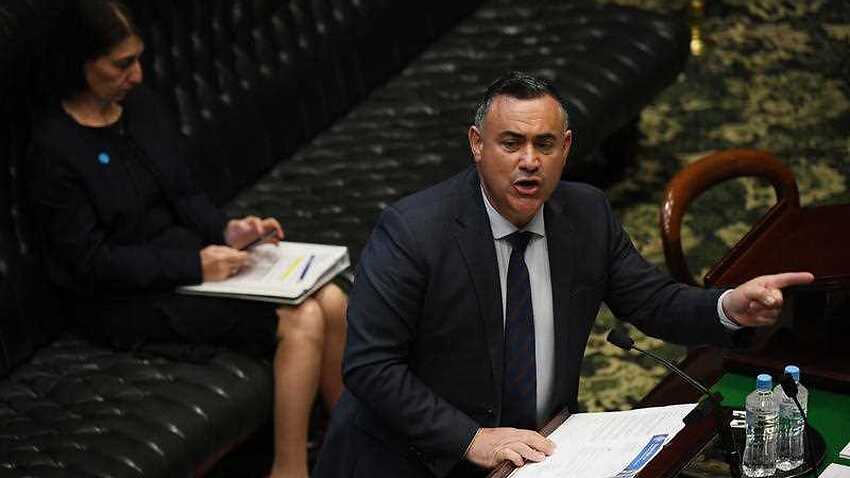 John Barilaro has survived a no-confidence motion in Parliament, but his leadership faces pressure after he refused to guarantee he will keep the Coalition intact.
During a heated exchange with Opposition Leader Jodi McKay during Question Time this afternoon, the embattled Deputy Premier refused to guarantee he would not quit the Coalition again.
"Will you never ever threaten to quit the Coalition again?" Ms McKay asked in Parliament.
"I'll tell you what I'll guarantee," Mr Barilaro said. "I'll guarantee for the rest of the term I'll be working hard."
Asked again to confirm he will not quit, he said: "My guarantee is that I'll keep working each and every day for the people of rural and regional NSW, including the issues around the koala SEPP (State Environmental Planning Policy)".
NSW Labor's vote of no confidence in Mr Barilaro was voted down in Parliament on Wednesday afternoon, in a 48 to 40 vote.
He issued a statement after the vote accusing Labor of conducting a "political stunt".
"The NSW Liberal and Nationals government is strong; this Parliament has shown confidence in me and I am proud to have 100 per cent support," the statement said.
"Today Labor has lived up to its reputation as a party with no more to offer than ineffectual and hypocritical political stunts."
Mr Barilaro last week threatened to march his Nationals colleagues to the crossbench if concessions on the koala policy weren't made.
He backed down after NSW Premier Gladys Berejiklian gave him an ultimatum to support her government otherwise National ministers would be sacked from cabinet.
The Nationals are concerned changes to the Koala Habitat Protection State Environmental Planning Policy limit land use on farms and the ability to rezone areas for development as more trees are classed as koala habitat.
Clarence MP Chris Gulaptis, who was the first National to threaten to sit on the crossbench over the policy, has confirmed he will still walk if the policy isn't changed.
– Additional reporting by AAP