The renaissance of Benji Marshall rolls on!
The veteran has just thrown arguably one of the sweetest passes this season to put South Sydney back in front at GIO Stadium.
Marshall collected the ball moving toward the left edge. Spotting Bailey Simonsson back behind the line anticipating a kick, Marhsall absolutely rocketed a spectacular cutout pass across two of his teammates and found Johnston right on the chest.
"It's the courage to do that too, Benji marshall just whistles it past Simonsson's nose to the winger to score the try," Phil Gould said in commentary.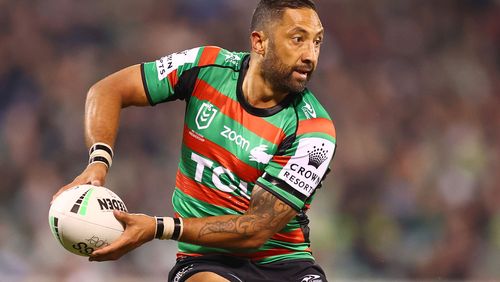 "That's a beautiful pass. That's just great experience and great courage to throw that pass."
Nine commentator Mat Thompson added: "Another one for the highlight reel, he shot that out of the cannon!"
"He's just got it all," an awe-struck Andrew Johns said.