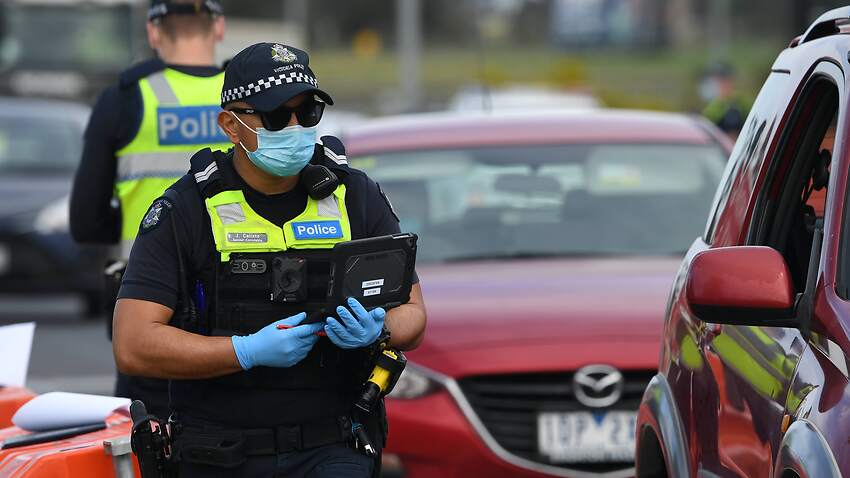 Regional Victorians are awaking to their first few hours under eased COVID-19 rules, with locked-down Melburnians looking on with hope and envy.
Victoria Police has erected a "ring of steel" on Melbourne's outskirts to crack down on regional travel, with rules wound back overnight.
Under the regional travel crackdown, Victorian adults who leave a restricted area without a lawful excuse will be handed a $4,957 fine.
The new offence comes into effect from Thursday and is designed to deter Melburnians from entering regional Victoria.
It will be complemented by beefed-up roadblocks, creating lengthy traffic delays as vehicles pass through.
The next step for regional Victoria means pubs, cafes and restaurants will be able to serve people outside with strict density quotas, while outdoor gathering limits will be upped to 10.
Regional Victorians will also be able to leave their homes without restriction and all shops can reopen.
They will still be able to travel via Melbourne to reach other parts of the state but can only stop for three reasons including food, care and permitted work and study.
Caravan parks and camping grounds in regional areas are also able to re-open from Thursday, but with group booking restrictions.
It comes as Premier Daniel Andrews indicated some lockdown measures in Melbourne were unlikely to end early despite the city reaching a key roadmap milestone.
With 42 new cases recorded in the 24 hours to Wednesday, Melbourne's 14-day new case average dipped below 50 to 49.6.
That average must be between 30 to 50 for some Melbourne restrictions to be eased as planned on 28 September.
Mr Andrews noted factors behind each case had to be considered when weighing up whether to ease restrictions.
A further eight deaths reported on Wednesday took the state toll to 737 and the national figure to 824.
Meanwhile, elective surgeries will ramp up to 75 per cent capacity in regional Victoria from Wednesday.
Melbourne-based elective surgeries are likely to increase to 75 per cent from 28 September.
NSW eases border restrictions
The easing of coronavirus restrictions in regional Victoria has prompted the NSW government to relax travel orders on its border with the southern state.
From Thursday, the zone where border residents can move freely will also be expanded to include some areas around Pleasant Hills, Lockhart, Benalla, Bright and Mount Beauty.
Anyone in the area with an existing border region permit will be able to take advantage of the changes.
"I want to thank the border communities for their patience," NSW Health Minister Brad Hazzard said.
"We are able to ease restrictions on the border given the reduced risk of COVID-19 transmission in regional Victoria." 
Metropolitan Melbourne residents are subject to Stage 4 restrictions and must comply with a curfew between the hours of 9pm and 5am. During the curfew, people in Melbourne can only leave their house for work, and essential health, care or safety reasons. 
Between 5am and 9pm, people in Melbourne can leave the home for exercise, to shop for necessary goods and services, for work, for health care, or to care for a sick or elderly relative. The full list of restrictions can be found here.
All Victorians must wear a face covering when they leave home, no matter where they live.
People in Australia must stay at least 1.5 metres away from others. Check your state's restrictions on gathering limits.
If you are experiencing cold or flu symptoms, stay home and arrange a test by calling your doctor or contact the Coronavirus Health Information Hotline on 1800 020 080. News and information is available in 63 languages at sbs.com.au/coronavirus